Frequently Asked Questions
Clear Watch Security (FAQs)
1. Who are Clear Watch Security?
Clear Watch Security is young and vibrant security services provider. We provide professional security services to a range of sectors within the UK. Read more >
2. What services do we provide?
Our services include Manned Security Guarding, Alarm Response, Key Holding and Mobile Patrols. We specialise in Concierge and Front of House services. We also offer Remote Concierge Services which is a unique service that caters for all businesses with an out of hours requirement. View services >
3. Are we SIA accredited?
YES!
We pride ourselves in our accreditations. Not only are we SIA accredited, we are also Safe Contractor accredited.
4. Where are we located?
Our headquarters is located at Oldham Broadway Business Park, Unit 8a Broadgate, Based in Oldham, Greater Manchester.
5. Where do we operate?
Clear Watch Security operates throughout the North West.
6. Are your security guards licenced?
YES!
All our security officers are SIA licenced. We constantly check to see the status of our employee's SIA licence and remind them that when it requires renewing.
7. Do you offer event security?
Unfortunately at this current time we do not offer any type of event security. We offer security in the corporate, industrial, and commercial sector.
Questions?
Haven't answered your queries? Give us a call, we endeavour to answer all your enquiries.
Contact us
About Us
Clear Watch Security was established in 2008 as a provider for security guard services. From our first contact in Manchester, we have now served clients throughout the North West, Midlands and the South of UK.
Learn More
1. How do I apply for Clear Watch Security?
To apply is easy as ever! We've made the process easier for you to become a part of our amazing team. Just simply head to the Careers tab to get started.
2. How can I get an SIA licence?
To apply for an SIA licence, you can simply go onto the SIA website and create an account, where it will direct you to what you need in order to get a licence.
3. What are the benefits of joining Clear Watch Security?
At Clear Watch Security we offer:
Company Pension
Flexible Schedule
Ongoing Training
Uniform Provided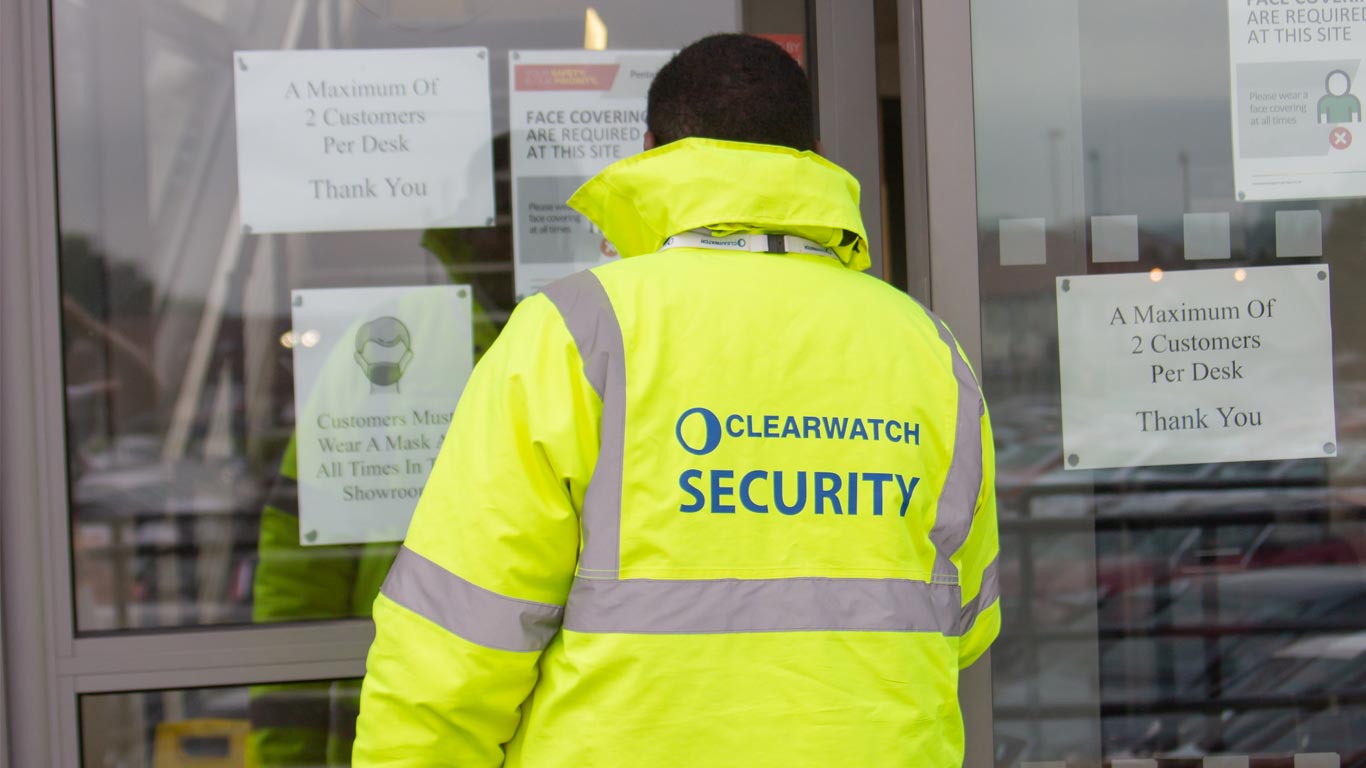 Unit 8a Oldham Broadway Business Park, Broadgate, OL9 9XA
Give us a call or drop by anytime, we endeavour to answer all enquiries within 24 hours on business days.